Beautiful Social Widget is WordPress plugins which is useful to link to your social media profiles. This plugins adds the widget in your blog. This plugin supports Facebook, Twitter, Google Plus, Linked In, Pinterest, YouTube, Instagram, Tumblr, Flickr, Rss and Email Me.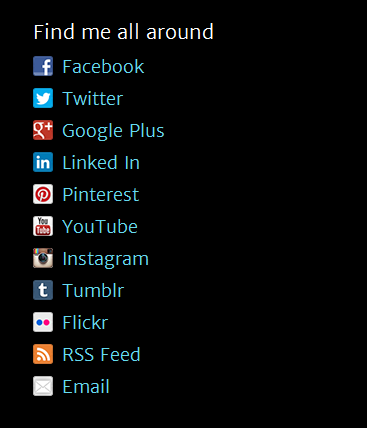 Download Beautiful Social Widget.
How to use this plugins ?
Well this is very easy to use. First of all install this plugins and then activate it. Then navigate to your Widgets section which is in Appearance tab. Search for the Beautiful Social Widget and drag it to your sidebar widget or wherever you want.
Now you will see the fields like Title and Facebook, Twitter, LinkedIn.
In Title field Enter title of the widget. (Example: Find me on)
In other fields (Facebook, Twitter) enter the full URL including http. (Example: http://twitter.com/acsudeep)
and in the Email Address field just enter the valid email address. (Example: someone@example.com)
The fields are optional. You can use the field only which you need and other you can leave blank. And save it.
Then view the changes.
categories: WordPress